COMING AT INVITATION OF RETAIL MERCHANTS-N.S. & T. DEPOT AT 7 P.M.
[The Welland-Port Colborne Evening Tribune, 24 November 1933]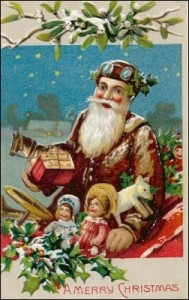 One week from today and Santa Claus will be here! He will arrive as he did last year at the N.B.& T. depot at 7 o'clock.
             Since the announcement was made in The Tribune two days ago that Santa would be here next Saturday night, little boys and girls in Welland and in the surrounding district too have talked of little else. It's going to be a big night for them for they surely love the Old Gentleman with all their hearts.
             Of course they have every reason to be fond of him. For is he not the source of those presents and gifts which they receive Christmas morning? Does he not come to their homes in the middle of the night, when they are fast asleep in their beds, and leave them the things of which they have dreamed for weeks before?
             A big reception committee will be on hand to meet Santa when he steps off the trolley car a week from tonight. Mayor Frank Springer will be there to shake him by the hand and officially welcome him. Members of the Welland Retail Merchants Association who have arranged for Santa's visit will also be there. And it is expected the Welland Sea Cadets band will also be on the scene to provide music.
To Distribute Candy
             There will be a parade downtown to the market square and here candy will be distributed. But more of that later.
             The colored lights which played such an important part in Santa's visit last year have again been strung across the downtown streets and will be illuminated next week. This year the lights will extend on East Main street beyond the Burgar street intersection. The illuminated Christmas trees will also be again placed at each end of the Main street canal bridge and in front of the courthouse.
             In the meantime, boys and girls, remember the date, time and the place. Next Saturday night, 7 o'clock at the N.S. & T. depot.