Click on IMAGE to ENLARGE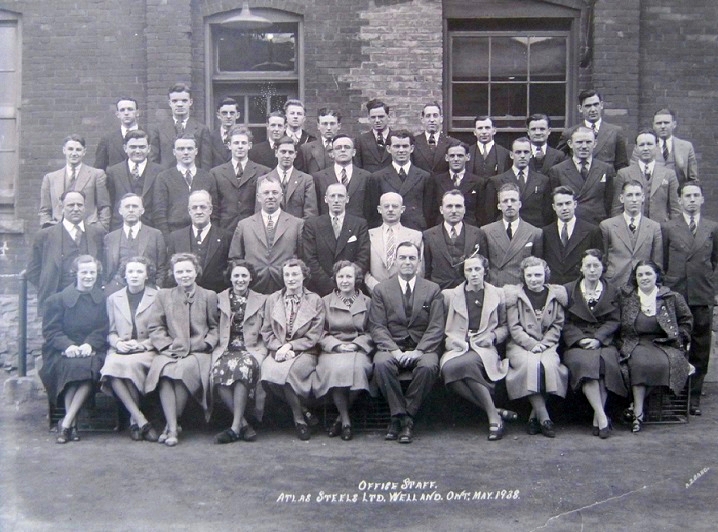 OFFICE STAFF: ATLAS STEELS LTD. WELLAND, ONT. MAY 1938
Front Row: Left to Right- Mrs. Vaughn McKaracher, Cristine Magee, Mildred Cardwell, Violet Rice, Elma Smilie, Marjorie Savage, R.H. Davis, Hazel Vanalstine, Dorothy Christopher, Freda Butt, Maude Smith.
Second Row: Left to Right- Alex Texter, Tom Hardy, Walter Thorton, Eric Murray, Lorne Blackwell, Albert Hubbard, R.C. Jayne, Cy Randall, Alex Pudwell, Jack Kean, Dave Russell.
Third Row: Left to Right- Clark Gelling, Lloyd Michener, Louis Sutch, Gord Clemens, Ralph Waldon, Ted Mardon, Jim McLure, Bub Goldspink, Fred Batsford, Pete Goodwillie, Fred Shipton.
Fourth Row: Left to Right- Sil Jarvis, Harry Groom, Orval Sauer, Ernie Christie, John Grassie, Tom Murphy, Sid Crowe, Len Ball, Harold Chambers, George Cooke, Art Hurst, Harvey Spry.
*Note: The names were included with the picture. If there are any corrections, please contact the website.